Gala Bakery's President and Owner, Jacqueline Janosevic, has been nominated for the RBC Canadian Women Entrepreneur Awards 2019, the premier national awards program celebrating the achievements of successful women for demonstrating excellence — from economic growth to social change, from local to global reach, across multiple sectors and throughout the nation. In this video, Jacqueline is interviewed by Justin Taravski, Senior Commercial Account Manager, Hamilton Commercial Financial Services of RBC about her beginnings and the factors that lead to her success.
In 2018, Gala Bakery was named to the Hamilton Fast 40, a list of the 40 fastest growing companies in Hamilton.
In 2018, Gala Bakery was named #160 on the Growth 500 Ranking of Canada's Fastest-Growing Companies by five-year revenue growth. The Growth 500—formerly known as the PROFIT 500—profiles the country's most successful entrepreneurial businesses. The Growth 500 is produced by Canadian Business. Winners are profiled in a special Growth 500 print issue of Canadian Business (packaged with the October issue of Maclean's magazine) and online at Growth500.ca and CanadianBusiness.com.
"The companies on the 2018 Growth 500 are truly remarkable. Demonstrating foresight, innovation and smart management, their stories serve as a primer for how to build a successful entrepreneurial business today," says Deborah Aarts, Growth 500 program program manage and editor. "As we celebrate 30 years of the Canada's Fastest-Growing Companies program, it's encouraging to see that entrepreneurship is healthier than ever in this country."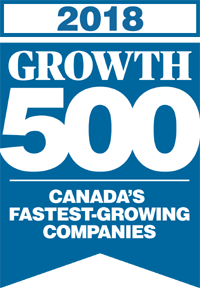 On May 1st, buyers from Dubai and representatives from the Canada Trade Commission for Dubai and OMAFRA (Ontario Ministry of Food and Rural Affairs) visited the Gala Bakery Booth at the SIAL 2019 show in Toronto and met with Jacqueline Janosevic, the owner of Gala Bakery.
On August 8, 2019, Minister Ng, Minister of Small Business and Export Promotion, announced the Women Entrepreneurship Strategy investments at Haltech Regional Innovation Centre in Burlington, ON.
"The Government of Canada is advancing women's economic empowerment with the first ever Women Entrepreneurship Strategy (WES), a $2-billion investment that seeks to double the number of women-owned businesses by 2025. The Honourable Mary Ng joined Pam Damoff, MP for Oakville North–Burlington, to announce an investment of up to $507,800 in women entrepreneurs and an organization supporting women entrepreneurs in southwestern Ontario. This funding is administered through FedDev Ontario. Gala Bakery Inc., located in Hamilton, will receive up to $100,000 to purchase equipment to increase production and expand services into the United States. This investment will help create five jobs in southern Ontario and maintain 17 full-time jobs."
For the full article, please refer to the following
link
.
NEWS PROVIDED BY
Innovation, Science and Economic Development Canada Aug 08, 2019, 10:30 ET
Jacqueline Janosevic is pictured with the Ontario Minister of Agriculture, Food and Rural Affairs, Ernie Hardeman, after lunching with the Minister and meeting with a delegation of US buyers, part of an OFEX/OMAFRA initiative to bring in potential international buyers and introduce them to Ontario food manufacturers.
In October 2019, Gala Bakery exhibited at the Grocery Innovations Show at the Toronto Congress Centre as part of the Ontario pavilion. While visiting the pavilion, the Premier of Ontario, Doug Ford, met with some of the participating entrepreneurs. Jacqueline Janosevic had the opportunity to chat with Premier Ford about how the Ontario Ministry of Agriculture, Food and Rural Affairs has supported Gala Bakery and assisted in its growth.